Oz-Inspired Poll: Are You a Glinda or a Theodora?
When it comes to fabulous costumes, there's no place like Disney. To coincide with the March 8 release of Oz The Great and Powerful, Disney Store designers have created two adult-sized, limited-edition couture costumes inspired by two of the tale's iconic witches, Theodora (the Wicked Witch of the West) and Glinda (the Good Witch), played by InStyle's March cover girls Mila Kunis and Michelle Williams. Only 300 editions of each look were made, and you can shop both the Wicked ($400) and Good ($350) costumes now on disneystore.com (along with an entire collection of Oz-inspired goodies). "I spent a lot of the shoot in a leather corset, wired up in a harness, and flying around in costume," Kunis told InStyle of playing the West's most infamous Wicked Witch. And while broomstick flying might not be on your agenda, it's still fun to imagine wearing a pointy hat inspired by Theodora's infamous black topper. Unless, that is, you're more of a Glinda girl. Vote below and tell us which witch are you: Good or Bad?
MORE:• Shop Urban Decay's Oz Makeup Palettes!• See the Video: Michelle, Mila, and Rachel Talk Oz• Try On The Oz Girls's Hairstyles
And check out InStyle's March issue on newsstands now! On the go? Download it on your tablet!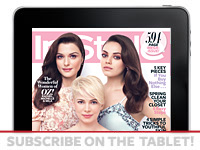 Download the new issue on your tablet: