Get a rosier, glowier, more even-toned version of your natural skin.

We matched the hottest summer sandals to equally hot nail lacquers.

We've rounded up our absolute favorite can't-leave-home-without-them products.

Now's the perfect time to take a cue from nature and update your fragrance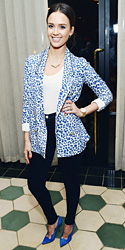 At the Anthropologie Celebrates "A Denim Story" by Emily Current, Meritt Elliott and Hilary Walsh event, Jessica Alba made a statement in a blue double-breasted leopard-print Anthropologie blazer, shrugging it on over a white tee and black J Brand skinnies, and flawlessly styling it with a selection of gold jewelry (including a TomTom necklace), a canary yellow clutch, and cobalt blue Casadei pumps.