We put together the key tips for achieving a faux glow, whether you have a day, a few hours, or just five minutes to spare.

See which products you should try this summer, and which ones you should toss.

Check out the hottest mani and pedi color combos right now.

Read on for tips on how to nail a couture effect.

See the big manicure hits on and off the runway and shop our favorite shades now!

Check out our picks for the best new summer fragrances.

These on-the-go must-haves are guaranteed to make your holiday even sweeter.
Quick Links: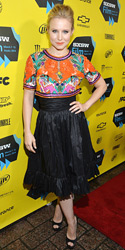 At the SXSW premiere of Veronica Mars, Kristen Bell turned heads in Naeem Khan separates—a beaded cropped top paired with a black taffeta ruffled skirt—that she styled with black peep-toes.