Talk about stunning! Find out who Jennifer's wearing and get style info on every star—straight from Hollywood.

Look who wore Armani at 9 years old! Watch how the Best Actress nominee primped.

The stars shined extra bright at this year's awards show—thanks to their sparkling accessories!

The scoop on the top trends from Hollywood's biggest night!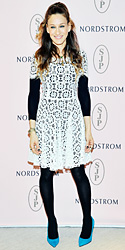 To promote her shoe collection at Nordstrom, Sarah Jessica Parker made her lace LWD work for cooler weather by pairing it with a black long-sleeve top and tights. A smattering of jewelry, including layered necklaces, and teal pumps from her SJP line rounded out her look.