Talk about stunning! Find out who Jennifer's wearing and get style info on every star—straight from Hollywood.

Look who wore Armani at 9 years old! Watch how the Best Actress nominee primped.

The stars shined extra bright at this year's awards show—thanks to their sparkling accessories!

The scoop on the top trends from Hollywood's biggest night!
See Oscars 2013 Index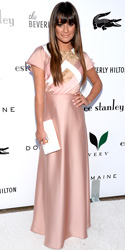 Lea Michele was pretty in Alon Livné's pink