You're new inspiration, whether you're hitting up a holiday party or in need of a hair change.

Add a little luxe to your holiday look with embellished headbands, pins, and combs.

See our favorite tools to master a variety of looks, no matter your hair type.

We've racked the brains of the country's top stylists and found the most coveted celebrity manes by city.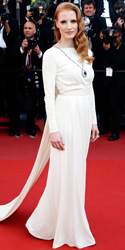 Jessica Chastain went glam in Versace Collection