Best of 2007

Belted Gowns were just one of the trends at the 2007 Golden Globes.

The brightest stars of film and television turned the red carpet into a river of glamour.

From face framing locks to straight styles, see how the stars tressed-up the red carpet last year.

Justin, Sheryl, and Eva made a beeline for the 2007 post-Golden Globes celebration at the Beverly Hilton Hotel.
Quick Links: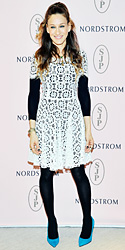 To promote her shoe collection at Nordstrom, Sarah Jessica Parker made her lace LWD work for cooler weather by pairing it with a black long-sleeve top and tights. A smattering of jewelry, including layered necklaces, and teal pumps from her SJP line rounded out her look.