Kids

Get your fix of chichi, gently worn European baby clothes by the likes of Bonpoint and Petit Bateau here, along with new end-of-season pieces and designer samples—all at bargain prices (we spied Tartine et Chocolat bloomers for $10). More kid's play: VIP members get early access to deals! Reader perk! 20% off. Code: INSTYLE20

Sign up for this club to get monthly care packages of parent-tested high-end baby items (like extra soft swaddling blankets) for less than what you'd pay in stores ($25 a month for about $50 worth of items). Goody boxes go from newborn to 18 months. Reader perk! 20% off. Code: CITRUSSTYLE

In the Goodies and Stuff We Love sections, a bonanza of charming toys awaits, including exquisite handknitted masks. Also shop here for award-winning cribs made from sustainable wood and snuggly Where the Wild Things Are—inspired looks. Reader perk! 20% off select items. Code: instyle20

From leopard-print blazers to zipper-embellished cargo pants, expect pint-size versions of downtown-trendy separates from edgy clothier Opening Ceremony's new toddlers-pre K collection. The blog is full of interviews with hip moms, including trapeze artists and rockers, and their offspring.

A new members-only subscription service (starting at $33 per month) lets you take your pick of adorable, mint-condition baby clothes and swap them for new pieces as your baby grows. Returns are cleaned with natural, hypo-allergenic cleaners, and any- thing returned with stains is donated to foster homes. Reader perk! 25% off select items. Log on to plumgear.com/instyle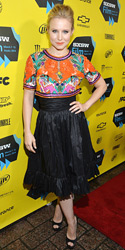 At the SXSW premiere of Veronica Mars, Kristen Bell turned heads in Naeem Khan separates—a beaded cropped top paired with a black taffeta ruffled skirt—that she styled with black peep-toes.