Makeover Issue

Consider your face shape, hair type and personality when looking for a length you'll love.

Check out the best inexpensive beauty finds from the pros.

Anti-aging doesn't have to take over your life. Here, expert tweaks to slow the clock.

Twist your hips, toss your hair, flash a sexy smile, and don't forget the concealer. See how easy it is to be photogenic?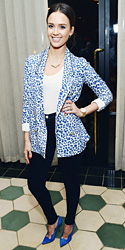 At the Anthropologie Celebrates a Denim Story event, Jessica Alba made a statement in a blue double-breasted leopard-print blazer, shrugging it on over a white tee and black skinnies, and flawlessly styling it with a selection of gold jewelry (including a TomTom necklace), a canary yellow clutch, and cobalt blue pumps.