Makeover Issue

Consider your face shape, hair type and personality when looking for a length you'll love.

Check out the best inexpensive beauty finds from the pros.

Anti-aging doesn't have to take over your life. Here, expert tweaks to slow the clock.

Twist your hips, toss your hair, flash a sexy smile, and don't forget the concealer. See how easy it is to be photogenic?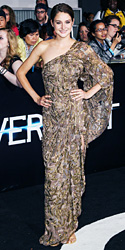 All eyes were on Shailene Woodley at the Los Angeles premiere of Divergent as she sparkled in her fully beaded bronze one-shoulder Elie Saab Haute Couture gown with draped detailing and a sexy thigh high slit. She kept the metallic theme going with gold foil Stuart Weitzman sandals.