Hair Issue

New products that suit your mane and your frame of mind.

Our alphabetical primer spells the latest trends in styling, products, and more!

Must-have kits to achieve flawless color at home.

Sally Hershberger shares her favorite bargains.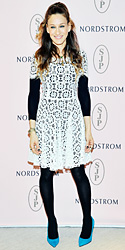 To promote her shoe collection at Nordstrom, Sarah Jessica Parker made her lace Dolce & Gabbana LWD work for cooler weather by pairing it with a black long-sleeve top and tights. A smattering of jewelry, including layered necklaces, and teal pumps from her SJP line rounded out her look.