Dallas-Ft. Lauderdale

Halo Salon
5010 Miller Ave.
214-823-3600
Price: $77 and up
Massive windows flood this industrial space in natural light, mirroring the equally sunny disposition of stylist Angie Toerper. Full of suggestions for upping the glam factor, the energetic pro is adept at making small yet noticeable changes to your color. She may be the queen of the partial highlight, but the result equals total brightness.

Green Lotus Spa & Retreat
4447 N. Central Expressway, Suite 115
214-520-6560
Price: $80 and up
This wind-powered spa situated in an unassuming strip mall is so eco-friendly, there's an electric car–charging station out front. During the 50-minute Himalayan Salt Stone massage, a therapist places disks of pure pink salt on key points of the body. Not only do the rocks retain heat for more than 20 minutes (so pros don't have to reach for heated ones every three minutes), but their mineral base has antibacterial properties. For our tester, the pressure bordered on intense—but in a good way, because it worked out all the kinks.

Spa Lucé
200 E. Third St.
563-326-5823
Price: $14 for manicures; $20 for pedicures
Located in the Hotel Blackhawk, this state-of-the-art spa with its black-and-white décor offers an array of indulgent treatments—from the energizing and anti-aging Citrus Manicure (incorporating a firming peptide hand mask with traces of grape-seed oil) to the fast Nail Refresher (a $12 polish change that'll have you out the door in just 15 minutes). And these looks last: Our tester had chip-free digits for a week!

Le Reve Nail Spa
1090 Amboy Ave.
732-372-7009
Price: $12 for manicures; $22 for pedicures
Pink brocade wallpaper gives this Jersey gem a girlie vibe. Straight-up manis turn out perfectly (an OPI one with Axxium gel color is $30). But you can also ask for artistic touches—our reporter loved her polka-dotted ring fingers. Also sweet: the complimentary tea and chocolate.

D2 Day Spa
60 Grand Ave., Second Level
201-308-5575
Price: $161 for Swedish Couples massage
While owner De-anne Palmer specializes in prenatal massage, it's her 75-minute Swedish Couples session that's become wildly popular at this under-the-radar spa on the second floor of a historic 19th-century home. Rooms have a zen vibe, with Buddhist statues, electric candles, and flute music playing. You and your partner rest side by side on separate tables while the therapists gently pinpoint tension. After administering an exfoliating scrub to backs and feet, pros perform rubdowns that are sure to deliver a blissed-out state.

Ted Gibson at Ft. Lauderdale
401 N. Ft. Lauderdale Beach Blvd.
954-414-8343
Price: $76 and up
Dreaming of a hair makeover from the sweetheart celebrity pro on TLC's What Not to Wear? That'll be $950 at Gibson's sleek mosaic-tiled salon, where he snips strands a few days every four months. For a more ATM-friendly visit, book time with stylist Katie Lisowski; she'll melt any jitters with a scalp massage, then blow you away by crafting sexy layers light enough to bounce in the So-Flo breeze.
Quick Links: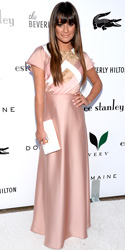 Lea Michele was pretty in Alon Livné's pink