Charleston-Chicago

The Spa at Glenmere Mansion
634 Pine Hill Rd.
845-469-1939
Price: $352
Hidden in the Hudson Valley is Glenmere Mansion, a hilltop hotel with 18 guest rooms for over¬nighters. But a day trip is all you need to experience the indulgent Journey to Shambhala bath and massage ritual. (Note: Bring a swimsuit.) A massage therapist guides you through the 150-minute service inside the luxe bathhouse, where a pro will soap, scrub, and rinse every limb. In between you enjoy time (five to 10 minutes for each) inside a shower, sauna, herbal steam, and icy mist room. Once skin is smooth, you soak in the mini pool before a 60-minute massage sure to leave you tension-free.

b. a Salon on Armitage
1022 W. Armitage Ave.
773-348-4100
Price: $101 and up
Multitaskers, rejoice! This posh Lincoln Park hot spot offers up an iPad on request, so you can email away while colorist and owner Becki Shunick can turn up the volume on your ho-hum base by blending in subtle layers of varying shades of honey, wheat, or strawberry. Settle in: This kind of highlighting perfection does take some time.

Amanda Peloquin Esthetics at b. A Salon on Armitage
1022 W. Armitage Ave.
773-348-4100
Price: $72
Working in a cozy room at this Chicago hair salon, aesthetician Amanda Peloquin relaxes clients with a foot rub before getting down to business with a customized facial (which can run 60 to 90 minutes). Peloquin performs meticulous extractions, spending up to 30 minutes removing blackheads. Once all is clear, she shifts into comfort mode, massaging the face with essential oils from Darphin (chamomile for sensitive complexions, Niaouli and rosemary for oily ones),then applying a soothing mask. Hands and forearms get a final rub 
 while it all soaks in.

Buff Beauty
2231 N. Clybourn Ave.
773-904-8065
Price: $28
Black-and-white photos of beauty icons like Audrey Hepburn and Brigitte Bardot are on full display—their bold arches inspiring all who enter this cute salon. Our tester received attention worthy of a VIP from pro Betsy Kamerzell-Marks, whose technique is nothing short of meticulous: After a consult, she waxed, trimmed, then tweezed for 30 minutes, until she got perfectly symmetrical results.
Quick Links: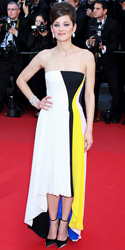 Marion Cotillard was stunning in Dior at Cannes