Expert Tips

Hear from the stylists behind the red-carpet looks of celebs like Rebecca Romijn and Cameron Diaz.

See how stars like Sienna Miller and Jessica Simpson get fabulous hair.
Quick Links:
Most Popular on
InStyle.com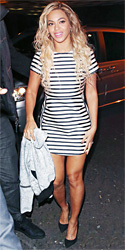 In between her Mrs. Carter Show World Tour performances, Beyonce took a break, stepping out in a striped satin Topshop dress and black Kurt Geiger pumps.