Best of 2007

The young film fest attracts stars like Reese Witherspoon and Halle Berry, and one of Sharon Stone's patented amfAR auctions.

Keira Knightley, Charlize Theron and Heath Ledger were among the stars who cruised the canals to promote their movies at the Italian Film Fest.

Erika Christensen, Kevin Connolly and Leonardo DiCaprio are among the stars—movie, rock and runway, that is—who have already turned out to welcome the neighborhood film festival back to the big city.
Quick Links: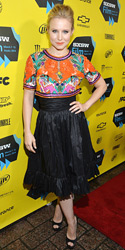 At the SXSW premiere of Veronica Mars, Kristen Bell turned heads in Naeem Khan separates—a beaded cropped top paired with a black taffeta ruffled skirt—that she styled with black peep-toes.