The Best Hair and Makeup of All Time

The red lip is as iconic as the stars who have worn the shade—from Marilyn Monroe and Elizabeth Taylor, to the celebrities of today.

Thanks to these ten classic styles, good hair transcends time barriers!

See the hair and makeup trends from yesterday that are getting a 2013 makeover.

Take a retrospective look at hair trends of years past, ranging from the wearable to the wild.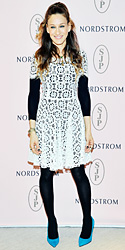 To promote her shoe collection at Nordstrom, Sarah Jessica Parker made her lace Dolce & Gabbana LWD work for cooler weather by pairing it with a black long-sleeve top and tights. A smattering of jewelry, including layered necklaces, and teal pumps from her SJP line rounded out her look.