Your virtual shopping cart runneth over! These complimentary gifts with purchase are right at your fingertips, so start clicking.

Nothing lasts forever, including makeup. Here's the breakdown on beauty basics.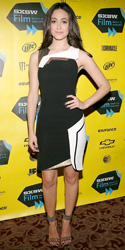 At the SXSW photo op of Before I Disappear, Emmy Rossum stunned in a Andrew Gn black dress with white-and-gold geometric panels. She kept up her sleek and sexy look with gold studded Brian Atwood sandals.