See which stars scored professional athletes.


Celebrities let us in on their most memorable romantic presents.
Quick Links: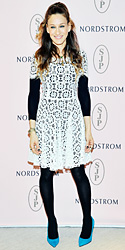 To promote her shoe collection at Nordstrom, Sarah Jessica Parker made her lace Dolce & Gabbana LWD work for cooler weather by pairing it with a black long-sleeve top and tights. A smattering of jewelry, including layered necklaces, and teal pumps from her SJP line rounded out her look.