Stars Help Fight Breast Cancer

Look great and feel great in these stylish must-haves.

Highlight your best features (and your awareness) with the most flattering shade of all.

Add a pop of color to your place with these do-good pieces.

These women fought back and found a way to give back to the cause that saved them.

Hollywood wears their support—and you can, too—with these cute T-shirts.
Quick Links: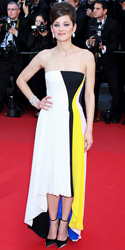 Marion Cotillard was stunning in Dior at Cannes