Hollywood's Sexiest Stars

We asked and more than 50,000 of you answered!

Eric Dane, Rachel Bilson and 23 other scorching celebs tell us what they think is sexy.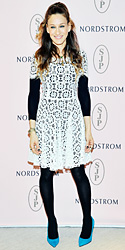 To promote her shoe collection at Nordstrom, Sarah Jessica Parker made her lace Dolce & Gabbana LWD work for cooler weather by pairing it with a black long-sleeve top and tights. A smattering of jewelry, including layered necklaces, and teal pumps from her SJP line rounded out her look.