InStyle's 20th Anniversary
See what all the winners wore—from Jennifer Lawrence's Dior's blush Dior gown to Meryl Stree's lame Lanvin ensemble.

See our favorite red lip moments of all time.

Peek inside Academy Award winners' homes and see where they store their precious trophies.

From Michael Jordan to Mark Wahlberg, check out the best hunks to ever grace our pages.
Most Popular on
InStyle.com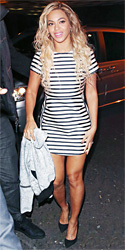 In between her Mrs. Carter Show World Tour performances, Beyonce took a break, stepping out in a striped satin Topshop dress and black Kurt Geiger pumps.