Booster brilliant, erase wrinkles, and glow gloriously with our best skincare tips.

Soothe winter skin with our favorite indulgences.

These miracle workers zap wrinkles, shrink the size of your pores, and more.

Say goodbye to seasonal skin woes with these must-have moisturizers.
Most Popular on
InStyle.com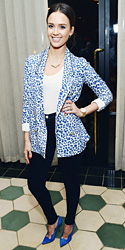 At the Anthropologie Celebrates "A Denim Story" by Emily Current, Meritt Elliott and Hilary Walsh event, Jessica Alba made a statement in a blue double-breasted leopard-print Anthropologie blazer, shrugging it on over a white tee and black skinnies, and flawlessly styling it with a selection of gold jewelry (including a TomTom necklace), a canary yellow clutch, and cobalt blue pumps.