Booster brilliant, erase wrinkles, and glow gloriously with our best skincare tips.

Soothe winter skin with our favorite indulgences.

These miracle workers zap wrinkles, shrink the size of your pores, and more.

Say goodbye to seasonal skin woes with these must-have moisturizers.
Most Popular on
InStyle.com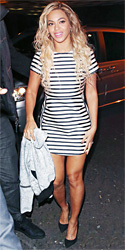 In between her Mrs. Carter Show World Tour performances, Beyonce took a break, stepping out in a striped satin Topshop dress and black Kurt Geiger pumps.