Kate Middleton's Style Diaries: Countdown to Baby!
The world is waiting with bated breath! Click to read the latest news from around the web.

Keep up with the mom-to-be, from royal appearances to shoppable style inspiration.

From demure dresses to elegant fascinators, Kate's maternity wardrobe is as chic as they come.

Pippa Middleton's enviable outfits have set a high bar for aunts everywhere.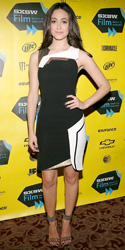 At the SXSW photo op of Before I Disappear, Emmy Rossum stunned in a Andrew Gn black dress with white-and-gold geometric panels. She kept up her sleek and sexy look with gold studded Brian Atwood sandals.