Be young, have fun, and don't be afraid to experiment! Try out expert skincare, makeup and haircare tricks to look your best now.

Perfect picks for the woman who has everything—except time.

Find out which areas to play up (and which ones to conceal) in these years.

Decadent picks and age-defying finds for your very best years.
Quick Links:
Most Popular on
InStyle.com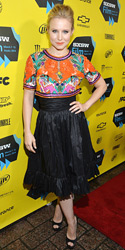 At the SXSW premiere of Veronica Mars, Kristen Bell turned heads in Naeem Khan separates—a beaded cropped top paired with a black taffeta ruffled skirt—that she styled with black peep-toes.