These celeb duos are as committed to the environment as they are to each other.

Follow these easy decorating tips to conserve on global resources.

Indulge in treatments and products that are good for both you and the planet.

Cute items for the home and closet are stylish and ecologically sound.
Quick Links:
Most Popular on
InStyle.com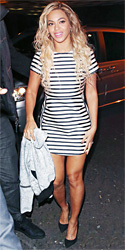 In between her Mrs. Carter Show World Tour performances, Beyonce took a break, stepping out in a striped satin Topshop dress and black Kurt Geiger pumps.