Bombshell? Boho? Classic? Sexy? Discover your beauty personality—and shop the products that define it.

The country's top makeup pros offer smart, realistic ways to revamp your look!

Learn how to find your perfect shade of pink, make lipstick last all day long and more.

These products will change your life (or at least your beauty routine).
Most Popular on
InStyle.com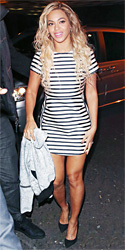 In between her Mrs. Carter Show World Tour performances, Beyonce took a break, stepping out in a striped satin Topshop dress and black Kurt Geiger pumps.