How to get this season's versions of the classic smoky eye, modeled by actress Amanda Seyfried.

Here's how you can wear three of the season's hottest new looks.

Get an expensive finish without a matching price tag.

From retro-inspired to mixed metallics, we show you how to nail the best manicure looks at home.
Quick Links:
Most Popular on
InStyle.com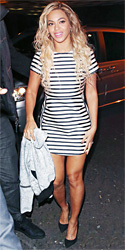 In between her Mrs. Carter Show World Tour performances, Beyonce took a break, stepping out in a striped satin Topshop dress and black Kurt Geiger pumps.