See this year's biggest and best transformations!
Simple tweaks to your daily routine will keep you glowing for years to come.
Four flashy trends are suddenly cool again.

Discover your beauty personality and shop the products that define it.

Star stylists reveal their favorite wallet-friendly buys.

Expert picks and tips for nailing this sizzling hot look.
See The Makeover Issue Index

Quick Links: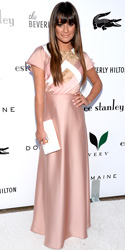 Lea Michele was pretty in Alon Livné's pink