See the Harry Potter cast transform from rookie middle-schoolers to bona fide actors with megawatt futures.

Find out which character's closet she'd love to raid!

Tell us whose hair, eyes, teeth and style you like best, Edward's or Eric's.

We asked the stars of Glee to tell us about their real-life school days.
See Movie & TV Fashion Index

Quick Links: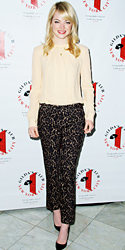 Emma Stone lunched in Michael Kors