See the Harry Potter cast transform from rookie middle-schoolers to bona fide actors with megawatt futures.

Are you a Betty, Peggy, Joan, or Megan? Take our quiz to find out!

Find out which character's closet she'd love to raid!

We asked the stars of Glee to tell us about their real-life school days.
Quick Links: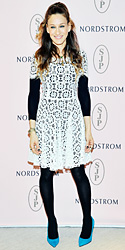 To promote her shoe collection at Nordstrom, Sarah Jessica Parker made her lace Dolce & Gabbana LWD work for cooler weather by pairing it with a black long-sleeve top and tights. A smattering of jewelry, including layered necklaces, and teal pumps from her SJP line rounded out her look.