The apple doesn't fall far from the tree for these famous Hollywood pairs.

Check out how these celeb moms keep their kids close to their hearts.

Find out what's on every new mom's wishlist.

Click to read best the advice these stars got from their moms.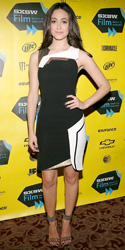 At the SXSW photo op of Before I Disappear, Emmy Rossum stunned in a Andrew Gn black dress with white-and-gold geometric panels. She kept up her sleek and sexy look with gold studded Brian Atwood sandals.