Kerry Washington, Robert Pattinson and Angelina Jolie provided plenty of star power at the French festival.
Stars from the festival's biggest films strike a pose in InStyle.com's photo studio.
InStyle.com hosts the stars of the festival's hottest films to get their photo snapped for a good cause.

Mary-Kate Olsen and Diane Kruger celebrated New York City's Tribeca Film Festival at the annual Artist Awards dinner.

Cate Blanchett, Angelina Jolie, Natalie Portman and more star styles from the red carpet in Cannes.

Blake Lively, Keira Knightley and Kate Winslet provide star power at the Berlin Film Festival.
Quick Links:
Most Popular on
InStyle.com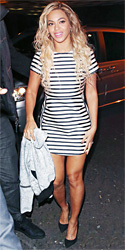 In between her Mrs. Carter Show World Tour performances, Beyonce took a break, stepping out in a striped satin Topshop dress and black Kurt Geiger pumps.