How to get this season's versions of the classic smoky eye, modeled by actress Amanda Seyfried.

Here's how you can wear three of the season's hottest new looks.

Get an expensive finish without a matching price tag.

From retro-inspired to mixed metallics, we show you how to nail the best manicure looks at home.
See Fall Beauty 2009 Index

Quick Links: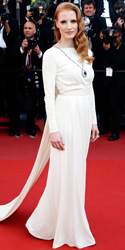 Jessica Chastain went glam in Versace Collection