Find out what your favorite stars wore to last night's celebration of the small screen.

Check out the top makeup and hair moments from the Emmy Awards.

See the night's most popular looks, from lace gowns to bold gold jewelry.

Who wins your vote for best dressed at the Emmys?
See Emmy Awards 2010 Index

Quick Links: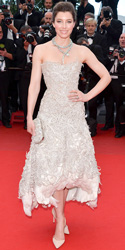 Jessica Biel was at her loveliest in Marchesa